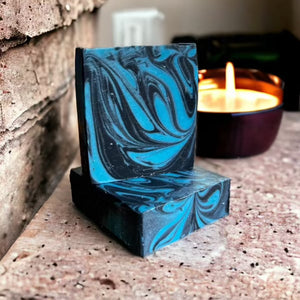 Made with pure Eucalyptus and Tea Tree Essential Oils infused into detoxifying Activated Charcoal, this artisan soap is cleansing, purifying and soothing to the skin.  
This beautiful soap is made from scratch using a process that turns the all natural oils and butters into beautiful, cleansing, long lasting suds.
Each batch is slightly different. 
4oz/115g
 Ingredient: Aqua, Olea Europaea (Olive) Oil, Cocos Nucifera (Coconut) Oil, Elaeis Guineensis (Sustainably Sourced Palm) Oil, Prunus Amygdalus Dulcis (Sweet Almond) Oil, Sodium Hydroxide, Mangifera Indica (Mango) Seed Butter, Eucalyptus globulus, Melaleuca alternifolia, Carbo Activatus, Mica, Titanium Dioxide, Ultramarine Blue