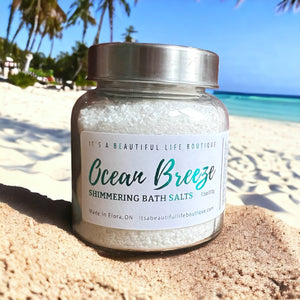 This luxury bath soak not only foams and fizzes like a bath bomb, but also glitters! Yes that's right! Made with 100% eco-friendly, plant-based biodegradable glitter, this is also a soothing and nourishing salt soak. 
This scent is best described as: an amazingly fresh, watery scent that you will love. It's both awakening, and soothing. 


7.5oz/212g
Ingredients: Magnesium Sulfate, Sodium Chloride (Himalayan Sea Salt, Fine Sea Salt, Dendritic Salt), Sodium Bicarbonate, Citric Acid, Polysorbate 80, Fragrance, Eco- Glitter (PolyLactic Acid, Polybutylene Terephthalate) 
Customer Reviews
02/23/2022
Nicole N.

Canada
I recommend this product
Ice palace Glittering Bath Dust
I bought this as a gift for my sister's birthday and she said she loved the products I bought her!
02/23/2022
It's a Beautiful Life Boutique
So glad you and your sister are happy! Thank you for the feedback :)