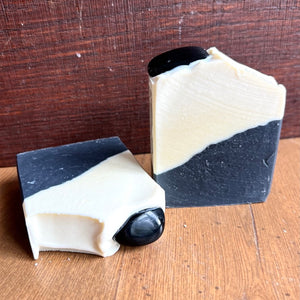 Thought to be a strongly protective stone, Obsidian is believed to be grounding, a shield against negativity and promotes inner healing. 
Scented with a beautiful cactus and sea salt oil, this is a very calming bar. Also made with activated charcoal for its skin clearing properties. 
Made with moisturizing Olive Oil, Almond Oil, Mango Butter, Eco Certified Sustainably Sourced Palm Oil and Organic Coconut Oil.  
4.8oz/140g
Ingredients:  Aqua, Olea Europaea (Olive) Oil, Cocos Nucifera (Coconut) Oil, Elaeis Guineensis (Sustainably Sourced Palm) Oil, Prunus Amygdalus Dulcis (Sweet Almond) Oil, Sodium Hydroxide (Lye), Mangifera Indica (Mango) seed butter, Fragrance, Carbo Activatus,  Titanium Dioxide