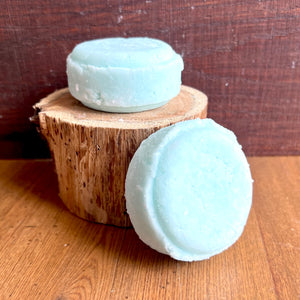 These shampoo bars are amazing. Gently rub on wet hair and use the thick, creamy, conditioning lather to wash your hair. Then rinse and condition as usual!
This bar lasts twice as long as any standard shampoo bar. 
Set bar aside in a dry space and this shampoo bar will replace up to 3-4 bottles of liquid shampoo, saving you money and keeping plastic out of the landfill. 
PURE: is scented with a calming mix of 25 flower and plant essences including: 
PURE:  is made with amazing plant based cleansing, protecting and conditioning agents. Here's a few:
Moroccan Argan Oil:
A shine enhancer for the hair, and boosts shine. It offers flawless light reflection and delivers extra shine without leaving the hair greasy.
Rich in vitamin E, carotenes, antioxidants and essential fatty acids. 
Panthenol: 
Help retain moisture in the hair and protect it from the elements
Hydrolyzed Oat Protein: 
Helps add and retain moisture to the skin and add softness, manageability and texture to the hair.  This moisturizer will impart a soft, cushiony feeling on the skin with a velvet-like smoothness after drying.  
100g/3.5oz
Ingredients: Sodium Cocoyl Isethionate (This is a fatty acid from Coconut Oi), SLSA (this isn't SLS - this ingredient is Coconut derived), Argania Spinosa (Argan) Kernel Oil, Behentrimonium methosulfate (salt derived from the natural plant oil Colza, or what is commonly known as Rapeseed Oil) Cocamidopropyl Betaine ( 100% coconut based surfactant) Hydrolyzed Oats, DL-Panthenol (Provitamin B5), Cetyl Alcohol (made up primarily of fatty acids from sustainable palm oil), Propylene Glycol (and) Diazolidinyl Urea (and) Iodopropynyl Butylcarbamate (safe preservative to prevent mold), Fragrance (phthalate-free), Mica, Titanium Dioxide
Customer Reviews
08/05/2021
Sydnie L.

Canada
I recommend this product
Amazing!
I've been using these shampoo bars for a few months now and I don't think I'll ever go back to bottled shampoo. I love the way they make my hair feel, and I love that I'm not contributing to plastic waste!
08/29/2021
It's a Beautiful Life Boutique
Glad you love them so much! Thank you for posting :)
06/13/2021
Jamie H.

Canada
I recommend this product
LOVE LOVE LOVE
I have long colour treated hair and recently it's been getting oily fast so to be honest I was a little skeptical but I am impressed! It took me a while to get the hang of it to make sure and trust I was actually getting some on my hair but it did start to suds up! I felt like I was using a lot but when I looked at the bar it doesn't even look like I used it at all! My hair feels soft, clean and the colour hasn't faded!!! This will be perfect for traveling and everyday use! I will 1000000000% be buying this again! I don't use conditioner very often but can't wait to try that bar out too!
06/15/2021
It's a Beautiful Life Boutique
So glad you loved it! Especially being a skeptic first! Thank you so much for the feedback :)
05/26/2021
Jeannie

Canada
I recommend this product
5 stars!
Decided to try my shampoo bar today, and just so happens my daughter had a sample of the conditioner, so in for a penny, in for a pound, am I right?? First off, the smell was glorious I wasn't sure how to go about using the shampoo bar (being a newbie and all) so got my hair wet and figured I would just rub it over my hair. At first I wondered would it be to dry or would it even foam? WELL my hair foamed up and hardly used any at all to clean my hair! Side note I have VERY long hair, and normally use A LOT of your average shampoo. VERY IMPRESSED! On to the conditioner, shameful to admit but on a work day, I don't even brush my hair, it goes right into a bun , so very knotty at the end of the day. I glided the conditioner on (the texture is almost like a hair treatment conditioner, it is so lush) and it smelled like all things good. Fast forward to brushing my hair, (which is always a nightmare) my brush glided through my very long hair like butter! So needless to say this will be my go to shampoo from now on and I'm right now purchasing the conditioner for myself ❤ if your not trying these products your missing out! 5 star review of course
03/31/2021
Steph K.

Canada
I recommend this product
Favorite!
LOVE this shampoo bar. It reminds me of my favorites from Lush and it smells like my favorite Aveda ShamPure! Amazing. My hair has never felt better. Will be ordering more!