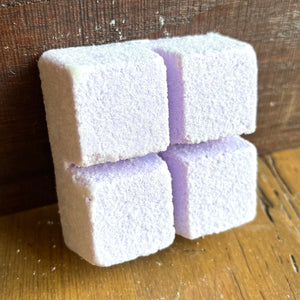 Relax: This shower steamer is filled pure lavender essential oil to release a gorgeously calming, relaxing, peaceful shower experience. Great for bedtime. 
Break off one cube and place at the edge of the shower spray where the water can gently touch the shower steamer which will fizz and release its essential oils into the steam.
if you don't use the whole cube in one shower, place somewhere dry for the next time. 
Each snap apart steamer does a minimum of 4 showers. 
Not for use in the bathtub, the essential oils are too strong for contact with the skin. 


6.7oz/190g
Ingredients: Sodium Bicarbonate, Citric Acid, Zea Mays (Corn) Starch, Potassium Bitartrate, Menthol, Lavandula angustifolia,Hamamelis Virginia (Witch Hazel) Water, Mica